Stump Removal Pricing
How much does Stump removal cost?
If you've had a tree fall down or removed from your property, then you're probably familiar with the frustration of a stump left behind. You know it's ugly and a trip hazard, but you ask yourself:  Is it worth the cost to have a tree stump removed? 
The simple answer to this question is yes. Removing a tree stump from your home can provide a range of benefits that far outweigh the cost of the job. There is also a whole host of potential issues that you can avoid. From rodents and disease, to damage caused by out of control root systems.
In this article we cover everything you need to know about removing a tree stump from your property. We look at the cost and pricing structure of the job, the process of stump grinding, the consequences of leaving it and the benefits of removal.
But first, there is another important question that you want answered.
How much does Tree Stump Removal Cost?
The cost of tree stump removal in Australia can vary greatly depending on a range of factors. When our arborists inspect a property to quote on stump removal, the cost will be determined after understanding things like
the size of the tree

the type of tree 

the location & accessibility

Ultimately how long will be required to remove the stump
On average around Australia the minimum cost of a stump grinding job $200 + GST. Then the amount of time needed for the job will determine the ultimate cost, but as a benchmark of 1 hr that is where it will typically fall at.
Our team of arborists are ready for stump grinding and stump removal no matter where you are located from Melbourne, Sydney, Brisbane, Gold Coast, Canberra, Hobart, Adelaide and Perth.
Stump Grinding & Stump Removal – What's the difference?
The terms stump grinding and stump removal often get used interchangeably, however there are important distinctions between these concepts. Not only does the cost of each job differ, but the environmental impact varies greatly between approaches.
Stump Removal: can be seen as the broader term. It encompasses all forms of removing a tree stump. Using chemicals to poison it, fire to burn it or force to extract it from the ground – these are all forms of tree stump removal.
Stump Grinding: this is a specific form of removal which uses a machine to grind down the tree stump to the level of the soil or below. This machine, known as a stump grinder, uses a powerful blade with tungsten teeth. The blade cuts away the wood and leaves the tree roots to decay. Should you need, our crews can bring the stump grinder to any tree removal job. The cost of the complete tree removal will be included in your free quote.
Stump Grinding & Stump Removal – Which Is Better?
While stump grinding is a form of removal, grinding has become the preferred method in the industry. This is due to the significant reduction in the harm done to the surrounding environment.
Tree stump removal often involves the extraction of the root system in addition to the stump. While this is a sure-fire method of preventing regrowth, it can have a negative impact on the nearby plants and trees. Whether you use force, poisons or fire, killing off the tree roots can be a much bigger task. Roots can grow far and wide, meaning that some root extractions result in unearthing most of the garden. Fire and poison don't have much better outcomes, with potential for either of these approaches to damage or kill other local flora. Understanding whether this method is feasible can be done by our professional arborists when inspecting your property.
Stump grinding, on the other hand, is a safer and more sustainable alternative to complete extractions. Where other strategies attempt to kill off the entire root system immediately, stump grinding removes the tree stump, cutting off the roots from their life source. Once this process has been completed, the roots will eventually rot away without any harm done to other plants or root systems.
Note: The roots can continue to survive for a short time after the tree stump has been ground down. This can result in extra growth shortly after the removal. Other removal strategies can be effective in preventing the roots from continuing to grow. However it is usually recommended that you choose a stump grinding approach to avoid any potential harm to your garden. If you are unsure which approach is best suited for you, it is highly recommended that you speak with one of our qualified arborists.
Who Put That Stump There?
There are many reasons that a tree stump left in your garden can be problematic. These reasons range from the superficial to the profound. First let's look at the most common reasons for having a lingering stump on your property
It was there when you moved in
The tree fell down
You removed the tree yourself
A tree removal service left it there
You'll notice that none of these common reasons involve an active choice to keep the stump. Rather they suggest that tree stump removal was an extra step that you either never got around to, or didn't know how to deal with. Frustrating as it may be, it's not uncommon for budget tree services to ignore the tree stump entirely when doing a tree removal job.
Our crews can grind your stump and remove the root ball as part of our tree removal job. The removal cost of the stump will be included in the quote so that the cost is transparent.
The Troubles of a Lingering Stump
So why is this a problem?
Good question!
While it may seem like a harmless thing to leave the stump there, it may be causing problems for your property that you haven't even noticed yet. An arborist could talk your ear off about all the intricate ways that a stump can impede on the health of your garden. We'll just go through the most evident ones. As mentioned, we'll start with the superficial problems with a lingering stump and move to the more profound.
Aesthetics
Tree stumps look bad. They're an eyesore, especially in a well maintained backyard. There's nothing worse than going to all of the effort of keeping a beautiful garden only to have a stump stick out like a sore thumb. Trees improve the look of your home and stumps detract from it.
Unplanned tree growth
Lingering stumps can promote the growth of small trees and weeds in the vicinity. This is an expensive issue if you need to remove those trees down the track. Furthermore the promotion of unplanned growth can direct precious nutrients in the soil away from your garden. Instead of growing a beautiful garden, your stump will use the nutrients for the expansion of its roots and nearby weeds.
Property Value
If you're planning on selling or valuing your house, then removing any stray stumps on your land should be high on your to-do list. Trees add value to your home through the addition of greenery, shade, beauty and air filtration. Tree stumps do just the opposite. They obstruct construction, provide no benefits and deteriorate over time with the growth of mould and weeds.
Infestation
A stump left to rot in your yard can become a hotbed for all sorts of undesirables. Ants, termites, rats and beetles are all attracted to the rotting process and growths that emerge as a result. These infestations can then spread to the rest of your garden or your home. Rather than trying to fight these things off after they've arrived, it's best to cut them off at the source by getting rid of that old stump.
Disease
Just as with rodents and insects, rotting tree stumps are a beacon for diseases and fungi. As growths emerge during the decaying process, these potential diseases pose a serious environmental concern for your garden and the local ecosystem.
Health & Safety
Stumps are a common cause of both minor and major incidents around the home. They are a tripping hazard. If a stump has not been properly signalled or sectioned off, it can be a risk of accidents – especially for children, elderly people and those with disabilities. Beyond this, stumps can be a major safety concern around machinery and appliances like lawn mowers.
How Does Stump Grinding Work?
The stump grinding process requires the use of a powerful stump grinder with a trained operator and generally additional crew for safety and support on the job. The machine employs a blade with tungsten teeth that grinds down the wood into sawdust and wood chips. As the it reaches ground level, the wood chips mix with the soil to fill in the hole. You can grind down below the surface level as far as 12 inches.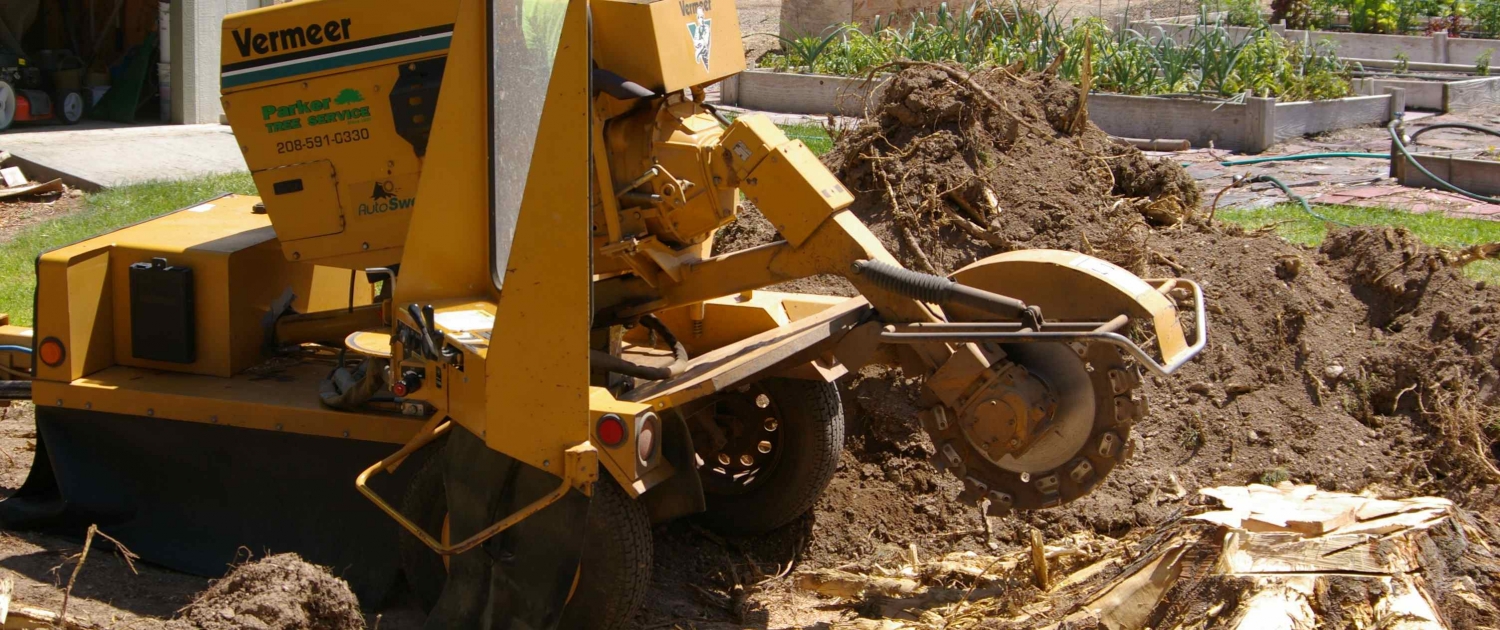 How We Price Our Stump Removal
Stumps can also be difficult to remove on your own, and it's best to hire a professional arborist to remove it. If you've come to the conclusion of having your tree stump removed, naturally you'll be thinking, "how much is this going to cost me?". As our guide discusses, there's a range of reasons stump removal could be needed, a similarly, a range of factors impact your stump removal and grinding quote.  To summarise some of these factors, these could include:
Cost of the machinery,
Crew needed to operate it
Type of tree (Palm trees vs hard trees etc)
Amount of time needed to grind
Level of access available
Whether there is a high density of rocks in the surrounding soil
Generally, we find our stump removal pricing to fall between $120 and $200 as a very rough estimate. As mentioned, depending on the factors listed above, the cost per hour will be around $200. The job can generally be completed within 30 minutes.
---
The Jim's Trees difference
Stump grinding is the best strategy for removing a pesky stump on your property. It is environmentally friendly, fast, efficient and effective. While the cost of each job will vary depending on the circumstances, in general it is the most cost-effective way of completely removing a stump.
Jim's Trees is the only trusted name when it comes to tree stump removal and stump grinding across Australia. We are proud to offer the following services:
Tree Stump Removal Brisbane
Our goal is to make high quality arborist services accessible and affordable to everyone. We combine our national resources with local specialists to deliver you friendly and professionally tree assistance. If you need help with your trees, give us a call on 131546 or fill out our online quote form today.
---
If you need a tree removed, give us a call today on 131546 or fill out our online quote form today.