Arborist Cost Guide
Whether you've got a dangerous tree on your property, a stump that needs removal or a canopy that could use a good prune, there are plenty of reasons to employ the services of a qualified arborist. Before you get started though, it is a good idea to do a bit of research so that you've got an idea of the approximate price of tree services. The cost of tree removal, tree stump removal, lopping, pruning and arborist reports can all vary widely between one arborist and the next. For this reason it is difficult to provide a clear definitive answer to the simple question: 'how much does an arborist cost?'
So to provide insight into the cost of tree services we will break down the role of an arborist, explore the difference between an hourly rate and the cost per job, provide a cost breakdown of arborist services and hopefully answer some of your most frequently asked questions about the price of a professional arborist. For more information, or to find out more specific prices for the tree help you need, get in touch with our friendly team on 131 546 for a free quote today.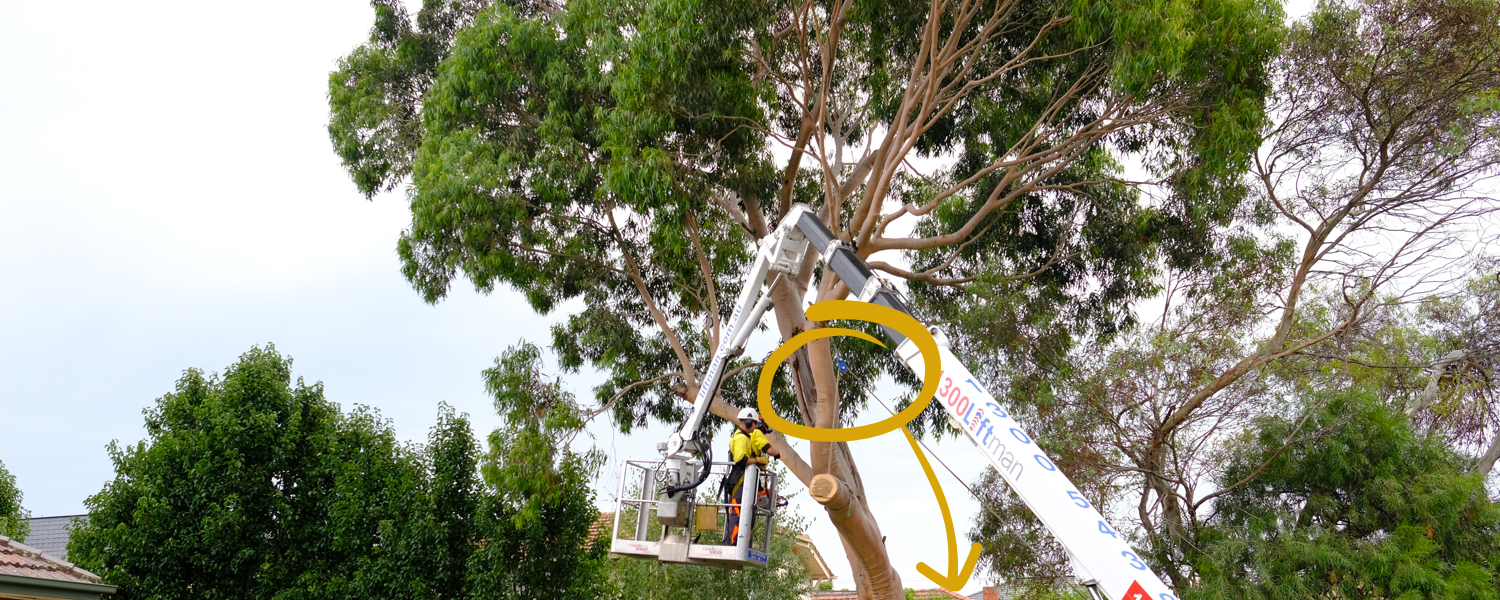 What does an Arborist do?
You may have heard of a tree surgeon, a tree lopper, a tree service professional, an arboriculturist, a tree doctor, a tree care professional or some variation of these terms. The work of an arborist encompasses all of these roles. A professional arborist has a certificate III in arboriculture (AQF level 3). This arboriculture qualification teaches them to care for the health and safety of individual trees. As opposed to a forester or logger that manage trees on a macro scale, arborists are specialists in the careful management of private and individual trees, shrubs, stumps, vines and plants. Arborists will bristle at the label of 'tree lopper' because this description refers to only one narrow segment of their work. While lopping overweight branches and overgrown canopies may sometimes be the best course of action, an arborist has many tools and tactics at their disposal to manage the health and safety of trees.
Some of the most common tree services offered by professional arborists include tree removal, stump grinding, tree pruning, power line clearance, fire safety management and pro arborist reports. Each of these services helps to ensure that individual trees are kept healthy or removed safely and sustainably. Arborists are employed by private residents, businesses, councils and governments to provide professional strategic counsel on the management of trees and the practical services to enact those strategies. Most local councils will require an arborist's report to accompany any application to lop or remove a tree. This is to ensure that the requested tree job is both necessary and can be done safely and in line with the local tree management strategy.
Arborist cost per hour
Many customers will request to know arborist prices per hour. While this way may be standard for many industries, it is not an especially useful means of calculating the value of arborist services. The approach used by an arborist will vary depending on the specific circumstances. The price per hour is determined by the number of overhead costs for a job, such as the number of crew members required and the types of machinery necessary. The price is further influenced by the degree of difficulty and danger associated with the tree job. This can be impacted by the condition of the tree, the tree species, the location and access of the site, the type of terrain and external risks such as traffic and power lines.
As such, there can be a huge disparity in the price per hour of two seemingly similar jobs. For example, two different tree removal jobs for the same species of tree that are the same size and condition could have drastically different costs if one of them had restricted access to the site that required the use of a cherry picker. Similarly, different species of trees can have different prices per hour due to the differences in approach necessary for removing, wood chipping and transporting the green waste. This disparity is especially clear between hardwood trees and palm trees. While a hardwood can be dangerous to remove due to the weight and density of the wood, a palm tree is expensive to remove and transport because its spiky exterior can't be broken down in a wood chipper. As such, the hourly rate for removing each of these species of tree would be dramatically different. For this reason we suggest that looking at the price per job rather than the cost per hour is a more accurate and helpful approach.
Arborist price per job
Tree removal costs based on hourly or daily rates can be misleading. They will often omit important fees that will only be added to the final fee at the end. Essential components like liability insurance, council approval, consulting arborist fees, green waste removal cost and stump grinding can all inflate the ultimate cost of the service. The best way to get an accurate idea of the cost of a professional arborist is to compare the quotes they provide per job with other available quotes for the same job. We offer all of our customers free quotes from our tree surgeons. This is so that our clients can assess the price range and cost guides for the specific job they require before making any commitments. These estimates will vary depending on the specific tree service, the job location, the size of the tree and a range of other factors that we will cover in the arborist price breakdown below.
Arborist Price Breakdown
Tree factors
Type of service
One of the most influential factors when it comes to the price of a tree arborist is the specific type of service required. Tree removal will cost more than tree pruning because of the amount of time, crew members, machinery and risk involved in the job. Tree removal jobs will also cost more because they often require stump removal, wood chipping and green waste disposal.
Tree size
The size of the tree has a massive impact on the ultimate cost of the service. This is due to a number of factors. A large tree will require more time to prune, lop and remove. It will also demand more safety precautions, team members on-site, wood chipping power and transportation costs. A small tree by contrast could be done much faster and cheaper than a large tree if it does not require climbing or heavy machinery to break down.
Tree species
The species of tree will determine the approach used by climbing arborists, the type of machinery that can be used and the amount of time to complete the service. When it comes to tree removal and stump grinding, the type of wood is very important. For example softwood stump removal costs are generally cheaper than for a hardwood stump because of the amount of time and effort needed to break down the wood and carry out the root removal.
Tree condition
The current condition of the tree is important when assessing the cost of a tree service because it affects the amount of risk, the strategic approach and ultimately the amount of time required for the job. If you need a tree removed that is in a dangerous condition, it may require an extra tree inspection and safety assessment to determine how best to approach it. Furthermore trees in poor condition can require extra machinery and manpower to carry out the removal safely.
Location factors
Access
Quotes incorporate factors beyond just the tree itself. In order to accurately determine the cost of a job, a consulting arborist must also consider the job location and level of access. For example, two identical tree removal or tree trimming jobs could have vastly different costs if one had open access and the other had restrictive access to the site. This is due to the amount of extra time and crew members required to transport the green waste and the potential for extra machinery required to remove the tree from the site.
Terrain
The amount of time and cost required for a tree removal, stump removal or tree pruning service is heavily impacted by the type of terrain on site. A steep slope or uneven ground can slow down the work and therefore cause the tree removal or stump removal cost to increase.
Conditions
The time of year and weather conditions are also important to consider when assessing the cost of a job. Rain and wind can make a job difficult and dangerous while hot summer days can require extra water breaks for the crew. While these factors won't affect the price as much as the tree size and species, it is still an important element to keep in mind.
External factors
Council permission
Most large private trees will require approval from the local council to carry out any significant tree works. This includes tree removal, substantial tree trimming and stump removal. While a tree service should not charge you for this process, it will increase the ultimate cost for you as most council tree permits require an application fee.
Insurance
Insurance is an essential element of every tree service, but many cut rate arborist businesses won't include it in the initial quote. We include the cost of our industry-leading $10 million insurance policy in our prices to ensure our customers have the information they need to make an informed decision.
Cleanup & Disposal
Dealing with the green waste is one of the important aspects of the work of an arborist. Dismembering trees, processing them through a wood chipper and transporting the waste off site is time consuming and costly. For this reason we include the cost of tree disposal and clean up in the up front cost of the job.
Arborist Price Guide FAQs
How do you find the right Arborist?
Finding the right arborist (aka tree surgeon, tree lopper, arboriculture specialist) for you takes a little bit of work, but luckily we've made it as simple as possible for you. We recommend getting a few quotes and choosing the one that is within your budget while still including all of the essential elements like insurance, wood chipping, green waste disposal and cleanup. If you need a tree serviced you can get in touch with an arborist today by giving us a call or filling out the online request form on our website.
When do you need an Arborist?
Arborists are often only thought about then a tree has become dangerous. While this is definitely a good time to seek the help of professional arborists, you can save a lot of time and stress by taking preventative measures. An arborist report is a document outlining the findings of a tree inspection. Tree inspections by arborists can help to identify any issues with your tree and recommends actions to be taken.
How much does an arborist cost?
Arborist report – typically an arborist report (aka tree inspections, professional tree reports) will cost between $300 – $500. Tree reports are often required for council applications.
Tree removal – "how much does tree removal cost" is one of the most common questions we hear, but unfortunately has no simple answer because of the sheer amount of variables. Roughly speaking a tree removal job can cost anywhere from $300 to $20,000.
Stump grinding – stump removal costs are based on the price of bringing a stump grinding machine on site and will generally start around $120 – $200.
---
Arborist Services Across Australia
Jim's Tree's offer professional arborist services all across Australia, providing best practices for tree removal and maintenance. You can find the experts at Jim's Trees across Brisbane, Melbourne, Adelaide, Sydney, Canberra, Hobart & Perth.
The Jim's Trees difference
Jim's is a different type of tree care service because we make professional quality tree care accessible to everyone. By combining national networks with local experts, we ensure that a quality professional arborist is never far away. We also believe in providing the best possible customer service. That's why we offer free quotes for every job and an industry-leading $10 million insurance policy to protect you from any unforeseen events. Find out why our list of returning customer is growing so fast by getting in contact with us today. It's never been so easy to get in touch. Just fill out the online quote form on our website or give us a call on 131546.
---
If you need a tree pruned, give us a call today on 131546 or fill out our online quote form today.