What is Stump Removal?
We remove entire tree stumps quickly, safely and with the least impact possible to the surrounding environment. If you have a problematic stump lingering in your backyard that has been causing you grief, don't put it off any longer! One of our most popular tree services, stump grinding, can help you to regain the area occupied by tree stumps.
We grind down the wood, kill off the root system and clear the way for new life and growth. This grants you the space to plant new seedlings, renovate your home or expand your garden. Stump removal services can provide a range of benefits to your home, including a healthier ecosystem, reduced chance of infestations and safer walkways.
THE PROBLEMS WITH STUMPS
Stumps can be one of the trickiest parts of removing a tree. This is why many tree services won't even bother trying to grind the stump. Instead they will cut down the tree and leave the stump protruding from the ground on your property. Leaving stumps to rot in the ground can cause any number of headaches for residents and property owners.
When left to rot, many stumps will not actually die. This is due to their extensive root systems that continue to bring them nutrients through the soil. The roots instead divert valuable water and resources away from other plants in your garden to keep the stump alive. As the stump pulls in nutrients without any tree to fuel, it becomes a hotbed for infestations of rodents, fungus and disease.
The living root systems of stumps can also create a range of problems beneath the surface of your property. As the roots continue to grow and seek out nutrients, they can push up land and cause cracks in pavement and walls. Removing a stump is the best way to avoid the issues caused by their root systems.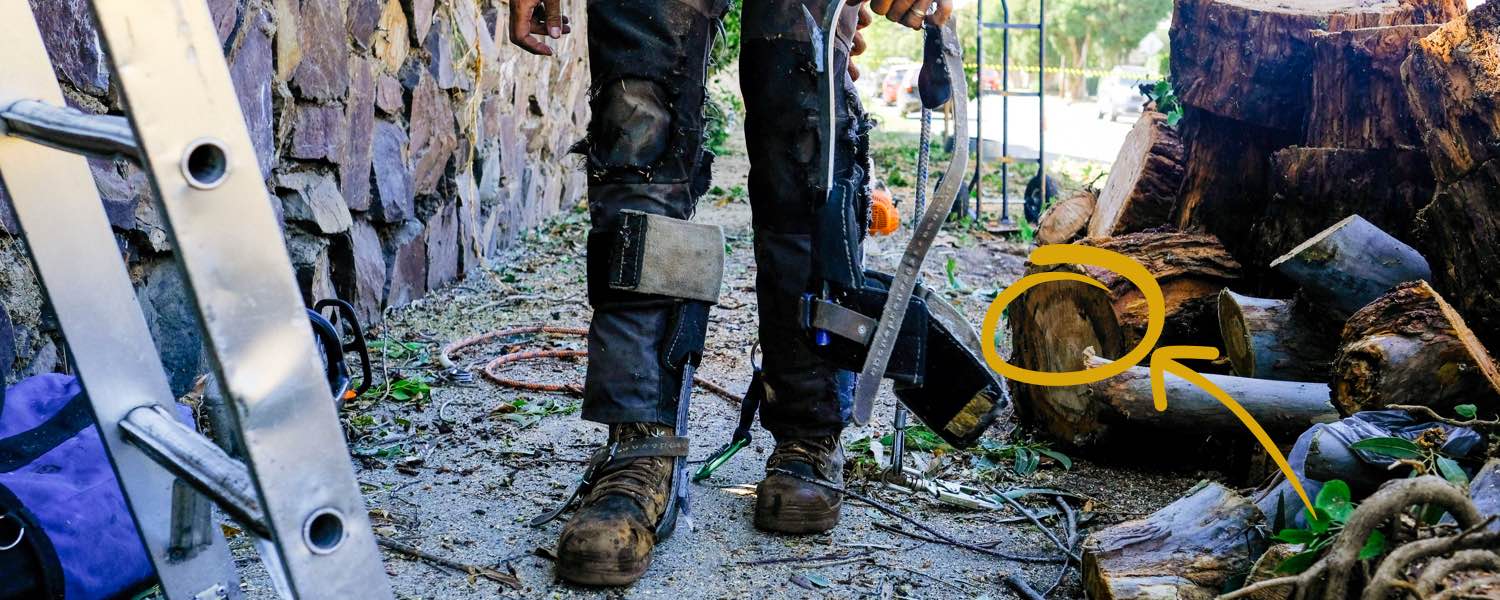 How To Book Your Stump Removal Service
Our team will contact you and confirm your required services and a convenient date and time.

Let the experts get to work on your trees!

Enjoy your maintained trees and property after a job well done.
BENEFITS OF STUMP REMOVAL
A stump grinding service gives you back control of your garden. Once you remove that obstructive protrusion, with its pesky root system that had become a home for rodents, you can use the space however you want. Your home will look nicer, your plants will thank you for the extra water in the soil and you won't have to worry about people tripping on the stump every-time they walk past.
Once we have completed the tree stump removal service (We're your local "Stump removal near me" company), the wood chips can be used as mulch for your garden to help retain water and nutrients. After the tree stump has been removed and the hole has been filled in, you gain the greatest benefit of the stump grind – more space. This extra space on your property can be used to renovate your home, grow new saplings or as free space to enjoy on your property.
STUMP GRINDING VS TREE STUMP REMOVAL
Rather than using potentially damaging chemical tree stump removal methods and digging bars, we extract the tree stump and kill off the tree roots using robust machines known as stump grinders. Once we remove a tree, we use this piece of powerful equipment to grind down the stump to ground level with its tungsten teeth. This process breaks down the stump into fresh wood chips which can be used as organic mulch for gardens.
OUR PROCESS
Once our team have removed the tree and any hazards, we bring the stump grinder on site.
We then set the grinder's teeth over the tree stump and begin the process of stump grinding.
As the wood is broken down by the machine, it is turned into mulch derived from organic wood and soil from your garden.
The Tree Surgeon will determine a depth for the machine to ensure that the stump will decay and new vegetation can be planted.
Once completed, the machine and all large materials and waste will be removed from the site.
The premium mulch will be used to fill the hole left by the stump, creating an optimal site for new saplings, vegetation or land use.
A full cleanup of the site is done, leaving the property in a better condition than it started.
What is the cost of stump removal services?
This cost is based on time spent on site by our crew. This will depend on the size, species and age of the stump. Speak with our team for an obligation-free quote.
Will stump removal kill the roots?
Yes. Once a stump has been dismantled and ground up, the roots can no longer access the nutrients they need to survive and will eventually die off completely. Some species are more resilient than others and may require the assessment of an Arborist to determine the best way to ensure no regrowth can occur.
How long does it take to remove a stump?
Depending on the size and species of the tree, grinding its stump can take as little as 10 minutes, or as long as a couple of hours.
Can you plant a new sapling after stump removal?
While the mulch created from these services can provide quality nutrients in the soil that are great for growth, sometimes the remaining root system needs time to decompose before planting a new sapling. This is dependent on the reasons for removal, tree species and the condition of the soil. Our Arborists can assess the best location for planting new seedlings, which may be directly over the old tree stump roots, or a few feet away to give the new roots space to grow.
Our Difference
Our tree specialists favour stump grinding because it's better for your garden, cheaper for you and safer for the crew. The trust we have built in the community and the confidence clients have in our team is due to the professionalism we bring to every job. Every service we provide is fully covered by industry leading insurance, allowing you to rest assured that your home is protected. Our teams are highly qualified and trained in all safety protocols. We use the best industry tools and machinery to ensure our work is done to the highest quality and efficiency, meaning less time on site and more time for you to enjoy your pristine garden.
Jim's Trees services all of Australia
With teams located all over Australia, we can offer stump removal and grinding services in Melbourne , Sydney , Brisbane, Gold Coast, Adelaide, Perth, the Canberra region and everywhere else.
We know using local businesses is an important as ever – and we're part of your communities.
See our locations page for a full list of areas we provide tree removal services. As the number one tree services company in the country, we aim to make all tree services accessible and affordable to everyone. If your home or business is in need of tree care, removal, tree pruning or a stump grinding service, contact us today online or over the phone.
Find us
Address :
Level 5, Bank House, 11-19 Bank Place,
Melbourne,
Victoria
3000
Phone : 13 15 46