Learn your way to a top job in tree care
Increasing awareness about global warming is heightening the value of retaining urban forests whilst creating many more jobs in the arboriculture industry.
Local Governments can't ignore the importance of tree health and the laws to protect trees will only get stronger. Qualified arborists are in high demand to care for existing trees and ensure they remain healthy and safe to be around.
Education, science and tools have much improved and trainee arborists can specialise in areas such as risk assessment, sonic tomography and tree health assessment.
As one leading trainer in the industry expressed 'the message is finally getting through regarding the importance of training and qualification and the benefits that it can bring to everyone, including the trees'.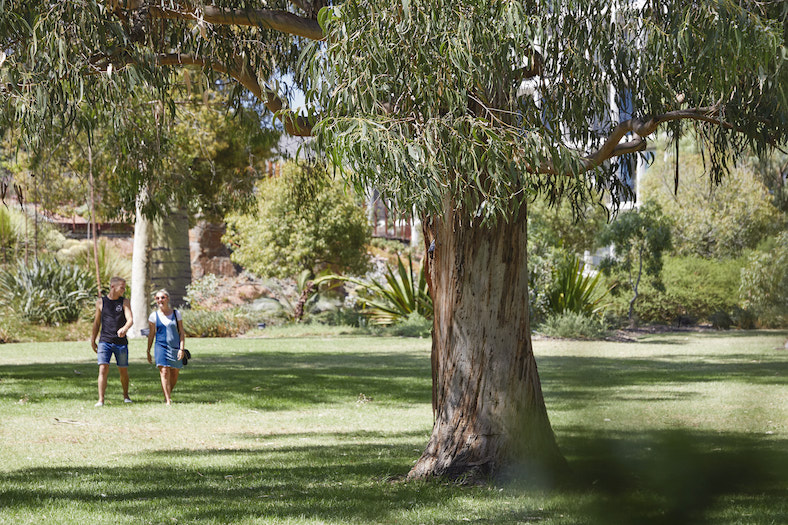 Plenty of employment opportunities out there
Arbortrim Australia took custodianship of a training service in early 2014 and the organisation has developed into a national leader of arboriculture training services.
Business Development Manager of Arbortrim Australia Robert Buick said continued education and development has never been more crucial in the industry.
"Qualified arborists are in critical shortage in Australia so there are ample opportunities to gain employment."
"Trees never stop growing so there will always be a need for qualified arborists to manage trees. The tree industry is increasingly regulated and so it's essential for businesses and individuals to be qualified to capitalise on the growing employment opportunities.
"There are significant financial incentives for employers through the Australian Apprenticeship program and as well as state government qualification subsidies for eligible individuals," he said.
We asked Rob how one begins training in the arboriculture industry:
Arbortrim's Certificate III in Arboriculture is delivered 2 days per month over 18-24 months. It is essential that students have the opportunity to practice the skills that they are learning from our trainers in the workplace when they're not at Arbortrim.
The Certificate III in Arboriculture is the trade qualification for the tree industry in Australia. This qualification provides the full set of skills and knowledge to safely and efficiently manage all aspects of tree maintenance and removal.
Undertaking this course is essential for workers and businesses to be compliant with health and safety regulations and well as being competitive with other individuals seeking employment and tree businesses.
Companies that are seeking workers need them to be qualified for the job tasks they will be undertaking. Many people start with some short course with Arbotrrim including chainsaw operation and woodchipper/mulcher. Whitecard is another mandatory short course to start as a ground worker / assistant arborist.
Certificate III in Arboriculture graduates will commonly progress to undertaking their Diploma of Arboriculture. This qualification enables people to perform scientific assessment of a tree's health and the factors that are influencing its livelihood. Diploma students are also taught to produce professional level reports on tree health and conditions that impact trees.
Diploma qualified arborists provide a technical consultancy service for the management of trees. Consultant arborists may require public liability and professional indemnity insurance.
Do you qualify for government funding?
The Government recognises the existing shortage of arborists in the labour market and that is why it is one of the ten eligible occupations for the Additional Identified Skills Shortage Payment.
Under this program eligible Australian Apprentices can claim $1,000 at the 12 month point from commencement of their apprenticeship, and a further $1,000 at completion. Eligible employers of Australian Apprentices can claim $2,000 at the 12 month point from the commencement of the apprenticeship and a further $2,000 at completion.
Employers and their apprentices may be eligible for a number of additional incentives and payments including the Rural and Regional Skills Shortage Incentive, the Support for Adult Australian Apprentices incentive, the Australian Apprentice Wage Subsidy trials, and Trade Support Loans for apprentices.
Australian Apprenticeship Support Network (AASN) providers are contracted by the Australian Government to administer all Australian Apprenticeships Incentives Program payments. The Australian Support Network Provider will be able to determine eligibility for any payments and assist in making a claim.
Further information about the apprenticeship incentives available to employers and their apprentices can be found at: www.australianapprenticeships.gov.au.
---
Author: Gail Bruce
Gail is passionate about the restoration and preservation of Australia's precious flora.
She has a Bachelor of Communication and Certificate III in Conservation and Land Management, and her work in local koala conservation was recognised when she was awarded Redland City Council's Environment Award in 2000.

Gail is well known in Arborist circles, being a regular contributor to Australian Arbor Magazine, Redland City Bulletin, as well as Public Relations Officer for Redland Organic Growers Incorporated.
https://jimstrees.com.au/wp-content/uploads/2019/07/port-phillip-trees.jpg
220
500
Gail Bruce
https://jimstrees.com.au/wp-content/uploads/2018/08/trees.png
Gail Bruce
2019-09-10 12:43:05
2020-04-14 15:36:31
Learn your way to a top job in tree care