What Native Trees Flower in Winter?
If you are feeling the winter blues, there's nothing quite like a burst of colour in your garden to help brighten your day. You don't have to wait until the springtime for stunning flowers and gorgeous hues as there is a wide range of trees that flower in winter. Not only are native plants best suited to grow in Australian soils and conditions, but they also produce some pretty remarkable blooms. We at Jim's Trees have listed our recommended native trees which will keep your garden full of flowers even in the depths of winter. 
Winter flowering Australian native trees 
From vivid yellows to eye-catching pinks, there's no shortage of beautiful Australian native trees to choose from. Here are five favourite winter flowering native trees to help you get inspired!
Heath-leaved Banksia 
The Heath-leaved Banksia, which is officially known as the Banksia Ericifolia, is immediately striking with its stunning yellow to red/orange flowers contrasting with the lighter green leaves. Although this Banksia originated from the New South Wales Central Coast, it can tolerate the cold and can even survive temperatures down to -6℃ once it is more established. Plant your Banksia in well-drained soil with a neutral or slightly acidic pH.
Cootamundra Wattle
It's tough to find a native plant more Australian than the classic Wattle tree. With striking yellow flowers and grey foliage, the Cootamundra Wattle tree can grow up to eight metres high and five metres wide. The Cootamnudra can tolerate a light frost and should be planted in sandy, loamy or clay loam soil that is well-draining. 
Hakea Laurina
The Hakea Laurina is often known as the Pincushion Hakea, a nickname which is derived from its unique shaped flowers. The pink and white circular flowers emit a pleasant scent and are particularly popular with bees, butterflies and nectar eating birds. It can tolerate cooler temperatures, but a particularly cold and frosty winter or too much shade may affect the number of flowers and result in sparse growth. This Hakea can grow up to six metres in height and is best planted in sandy and loamy soil which is well-draining.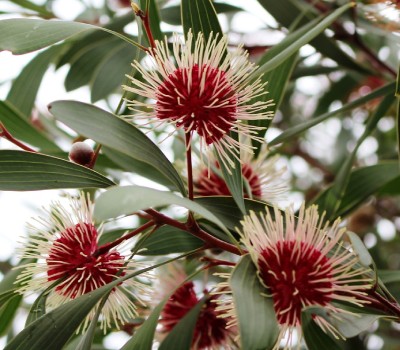 Eucalyptus Caesia
Nicknamed the 'Silver Princess', the Eucalyptus Caesia produces beautiful pink to red blossoms on white branches throughout the winter. The Caesia can grow up to eight metres in height and grows well in most well-draining soil types. Avoid planting this Eucalyptus in regions with high rainfall and humidity, and ensure it receives full sun. 
Syzygium 'Big Red'
Although the Syzygium tends to be thought of as a hedge, this spectacular Lilly Pilly provides colour year round thanks to its bright red foliage. A rich crimson colour, the Syzygium (known as 'Big Red') also produces white flowers during the summer, and grows up to six metres in height. It is considered a low maintenance plant due to its ability to be grown in a range of soils and regions, but protect from frost until it is more established. 
Keep your trees beautiful year round with Jim's Trees!
To guarantee that your trees look great throughout the winter and the rest of the year, you will need to regularly maintain them. Tree pruning is an essential part of maintaining healthy and happy trees by removing dead or dying branches and keeping them at a safe height. If you require expert pruning services, you can trust the team at Jim's Trees! Receive a free quote on our pruning services or get in touch with us to discuss your tree needs further. 
https://jimstrees.com.au/wp-content/uploads/2023/07/Cootamundra-Wattle.jpg
853
1280
Clara
https://jimstrees.com.au/wp-content/uploads/2018/08/trees.png
Clara
2023-07-27 11:01:35
2023-07-27 11:19:07
What Native Trees Flower in Winter?