Cheap Tree Removal in Perth
At Jim's Tree we provide Perth with the Cheapest Tree Removal services in the area 
To remove a tree from your private property in Perth, you are going to need a tree removal permit from your local council as well as the help of a qualified arborist. An experienced arborist can assist with the permit application, they are familiar with local council regulations, they can diagnose the condition of your tree, they can safely lop the tree and remove it from your property. Choosing the right arborist for the job however, is not always an easy task. 
If you want to get the cheapest price on removing a tree, the lowest quote is rarely the best option. Services offering the lowest quote will often omit important parts of the job, they will be rushed for time and are more likely to make mistakes or cause accidents. Any of these errors will result in more money out of your pocket when you need to pay for repairs or unforeseen expenses down the road.
There are many tree removal services to choose from. In this guide we will show you which things to look for to ensure you get a good price with a great outcome for your home.
Safety
Before you look at the price of a tree service, you should look at its safety. Removing trees in populated spaces is dangerous work that risks the health of the climber, the ground crew and nearby residents and pedestrians. It also risks damaging the environment, the garden, the property or nearby houses. 
The risks are far smaller if the tree company has a qualified, trained and experienced crew with all of the right safety equipment and protocols. A tree service that prioritises safety will not be rushed, it will have an adequate amount of ground staff to support the climber and its machinery will be well-maintained to ensure reliable performance. 
You should always check the company's website to verify its commitment to safety and its investment into equipment, training and safety measures. It's never worth risking your safety for a cheaper price, especially when the costs of an accident can far exceed the discount on a quote. 
Remember
Safety should be your number 1 priority

Maintaining safe equipment and well-trained staff is expensive

Choose the company that invests in its safety measure.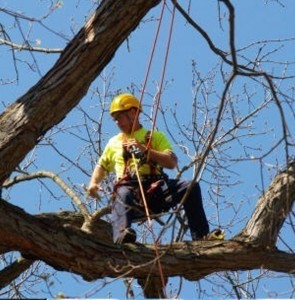 Insurance
Insurance is an easily-overlooked part of a tree quote, but it is almost as important as safety because it concerns the protection of your financial well-being. Tree services offering cut-rate quotes for a tree removal will often do so with little or no insurance coverage for you and your property. While this helps the company to save on costs, it is you that has to suffer the consequences if an accident occurs. The cost of a damaged garden, a scratched car or a broken roof can easily overshadow the price of an entire tree removal. 
You shouldn't be expected to incur this type of risk and as such you should make sure that any tree service you choose has a comprehensive insurance protection plan for every job they do. There can be no half measures or loopholes when it comes to insuring your financial savings, only accept tree services that are fully insured. 
Remember:
Insurance provides financial protection

Companies without insurance put you at risk

Only choose fully insured tree services
Legality
Every council has their own local tree protection laws that dictate the conditions by which a tree can be removed. These laws generally require a qualified arborist to confirm the species and condition of the tree as part of the application for a tree removal permit. Once you have obtained this, the permit will generally stipulate that the removal is carried out by a qualified arborist to ensure that it is done safely, sustainably and to a high quality. Failure to follow these protocols when removing a private tree is illegal. Breaking these local laws leads to heavy fines and potential legal action. 
Discount tree removal services will try to circumvent these laws. They may tell you that those laws aren't enforced and tempt you with quotes that are well below the market rate. These companies will avoid following the laws for several reasons. The permit approval process is time consuming, it requires qualifications and a familiarity with technical horticultural concepts. Discount tree removal services are short on time, short on qualifications and short on technical knowledge.
You should never break the law when removing or pruning a private tree. The legal and financial penalties will fall on you, not the tree company. As such it is you that carries the risk of fines so that the company can save time waiting for a permit to be approved. 
Remember
Each council has their own tree protection laws

Failure to follow these laws results in financial and legal penalties

Choose a legitimate tree service that can help you apply for a permit
Quality & Experience
This should be obvious, but if you're getting a private tree removed in Perth, you want it done well. Low quality tree removals can result in all sorts of headaches and extra costs. A low quality tree removal may damage your property, or it could fail to complete the entire job. Many cheap tree loppers will cut a tree down, but not include stump removal, wood chipping or the transportation of green waste. This results in several extra jobs that you need to pay for. 
When it comes to getting a high quality job, the best option is to choose an experienced arborist. Experienced, qualified arborists are able to diagnose problems that untrained tree loppers cannot. They can tell when a tree is becoming dangerous, or when it can be saved. The advice from an arborist can save you money. They can tell you when a tree does not need to be removed, or they can identify a dangerous tree that you didn't realise would become an issue. 
The best way to ensure you get a high quality tree removal done safely, sustainably and affordably is to choose a highly recommended, experienced local arborist. 
Remember
Low quality results in more expenses down the line

High quality means the job only needs to be done once

Choose an experienced arborist to guarantee the best chances for success
High Quality Affordable Arborists in Perth
At Jim's Tree & Stump Removal, we connect customers with experienced, qualified, affordable local arborists. We believe in investing in the training and equipment of our crews, so that they are equipped to provide customers with the best possible tree help. We offer free quotes, a 100% customer satisfaction guarantee and full insurance coverage on every job. If you would like an affordable price on a high quality tree removal, fill out our online request form or give us a call today on 131546. 
We offer a complete service from the first time you contact us, until we clean up all the green waste and leave your property looking great. The reason our list of returning customers is growing each year is because we believe in giving you the best service possible in the safest way we can. 
If you want to start caring for your trees, need the advice of an Arborist, or are curious about our prices and services – contact us today for a chat and a free quote. There are more ways than ever to get in touch. 
Give us a call on 131 546, our phone line is open 7 days a week
We also have an online quote form available on our website which operated 24/7.
How much does it cost to get rid of a tree?
The average cost to remove trees can range from $250 to $3000 with most jobs costing around $1000. For smaller trees up to 10 metres tall you can expect to spend $800, for a tree between 10 and 20 metres the prices would range from $750 to $1250. Pricing really depends on height, diameter, location, site access, and the type of tree.
How much does it cost to cut down a tree in Perth?
In Perth, the cost to remove trees is similar to the rest of Australia with most trees costing between $500 and $1000 to remove, with this cost being impacted by several factors other than how big the tree is. A small tree up to about 5m might cost around $500 to remove, where a bigger 8-10m tree will be around the $1000-1200 range.
In addition to this you need to factor in council permits where required (Additional costs)
How do I get council approval to cut down a tree?