Jim's Trees arborists are the best and most professional in the business
Our network of professional arborists in Melbourne provide accessible and affordable tree care and specialist arborist services. Through our friendly customer service team, or our easy online quote request form, you can be in contact with our consulting arborists in no time. Our services cover all areas of tree management, from planting saplings and tree pruning to tree removal and stump grinding.
Who We Are | Friendly Qualified Arborists
We are the leading tree care company in Melbourne and across Australia because of our commitment to providing high-quality tree services with excellent customer service. Each year our list of happy and returning clients grows each year as more people experience the benefits of professional tree services with a smile. Our arborists are expert tree surgeons with arboriculture and horticulture qualifications that equip them in the management of private trees and the full range of arborist services.
What We Do | Tree Services
As a Melbourne tree care company we offer our clients all the tree and garden services they may need for their properties. Our tree service professionals provide arborist reports, tree trimming, tree surgery, lopping of overweight branches, power line clearance, bushfire prevention and tree extraction. Our tree surgeons also come equipped to each job with a wood chipper and stump grinder. This means that our guys can provide a comprehensive service that includes tree stump removal and green waste transportation to ensure that your property is left in a better condition than it started.
Tree Pruning
One of the most important strategies for tree care and tree risk prevention is a regular tree pruning schedule. Trimming back leaves, shaping the canopy, rebalancing the weight distribution, thinning the crown and cutting off dead parts of the tree can all help your tree to grow stronger and healthier. Beginning your tree pruning schedule as early as possible will give your tree the best chance of thriving while drastically reducing the chances of it losing its structural integrity during high winds or storms.
Tree Removal
When a tree has become too old, sick or damaged then a complete tree extraction is the best course of action. Removing a tree on your own can be very dangerous and risk damaging the surrounding environment. For this reason, it is always important to get a qualified arborist to perform the tree removal to ensure that it can be done safely, sustainably and in line with the local tree protection laws. Our tree arborists are expert tree surgeons who can extract a tree from your property with high efficiency, safety and minimal impact to the ecosystem.
Stump Grinding
It is important to get rid of the tree stump when you cut down a tree so that the stump can't cause you further problems down the road. A lingering stump can damage the rest of your garden by redirecting essential moisture and nutrients in the soil through its root system. It's a mistake to think that a stump is completely dead because its root system can continue to live and grow. Our team of tree experts come to each job prepared with a stump grinder that can break down the stump and kill the root system to ensure it can't cause any further damage to your property.
Wood Chipping & Organic Mulch
We offer green waste disposal and transportation to help keep your property clean and healthy. To do this we bring an industrial wood chipper to process any green waste in the field and turn it into premium wood chip mulch that can be used to cover your garden and help your plants to grow. By wood chipping green waste we are able to recycle high quality natural products and offer local organic mulch that is an excellent choice for your garden.
Power line clearances
Tree branches near power lines are a hazard to your home and the wider community. Clearing branches away from sources of electricity is especially important during periods of high winds, storms or bushfire season. Overhanging branches and overgrown foliage can be a catalyst or a fuel source for fires. We offer professional power line clearance to help keep your property safe from any hazards.
Arborist Reports
When it comes to keeping trees healthy and safe, prevention and early intervention are the most effective strategies. That's why we encourage all our clients to get our arborists to provide comprehensive tree reports for their property. This type of arboriculture report can help to identify any existing issues with your trees, such as damage, infestations, disease or dangerous imbalances. The earlier you identify these problems, the more chance you have of saving your tree and giving it a long and healthy life.
Where We Work | Melbourne Arborists Near You
We have arborists based all across Australia. However, with Melbourne as our company headquarters, we take great pride in the work we do with all of our Melbourne clients. To speak with an arborist, get a diagnosis of your trees and to receive a free quote, get in touch with our friendly staff today to discuss our range of services to suit your need. No job in Melbourne is too big or too difficult.
Our Promise | Customer Satisfaction Guarantee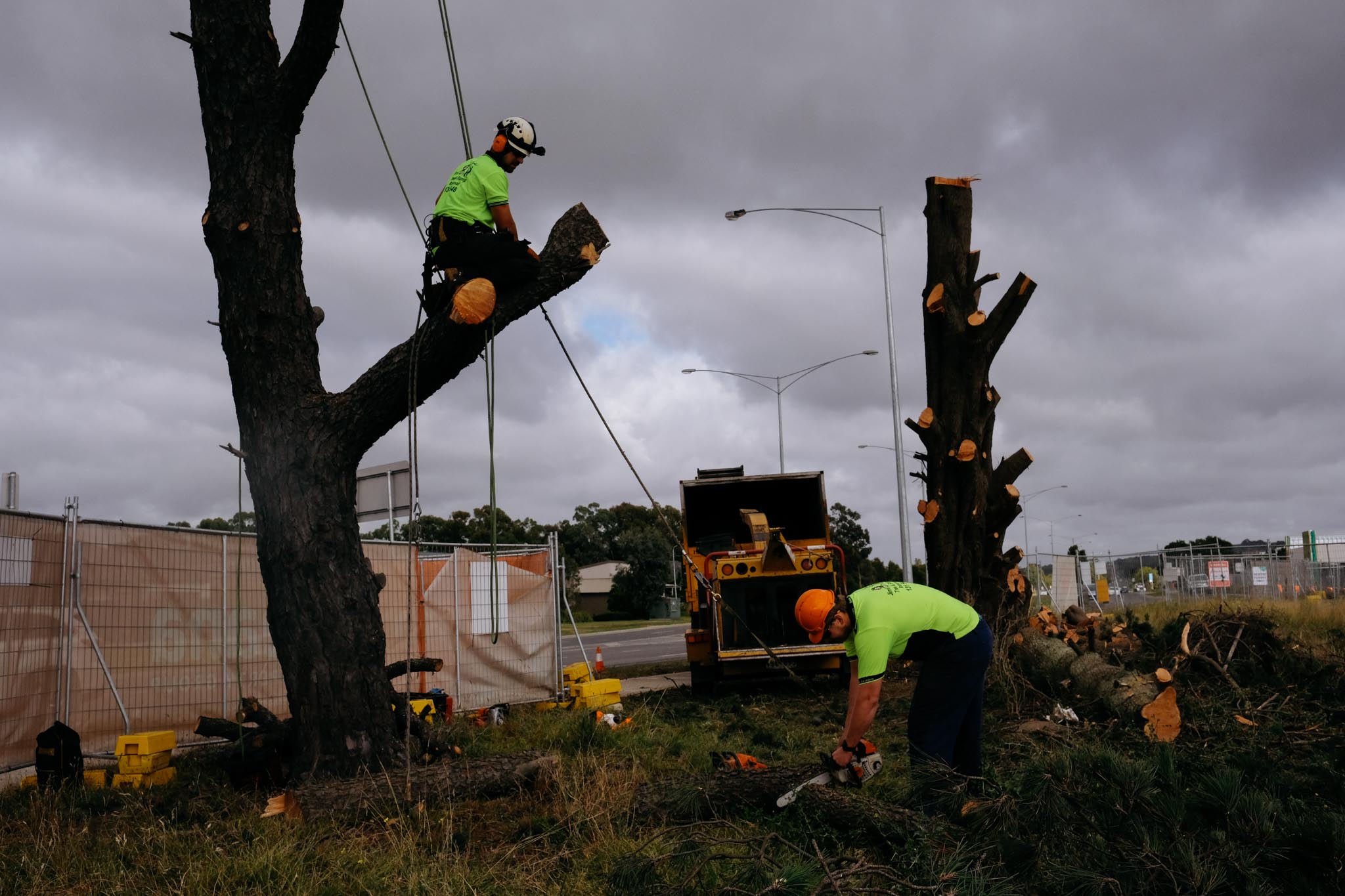 The reason our reviews are strong and our list of returning clients is expanding every year is because we care about the customer experience. We believe that the job of a tree company is about more than just trees, it's about people. That's why our staff go above and beyond to provide an excellent service for all of our customers. We will strive to meet your needs and to provide you with a fair price. If you need some professional care for your trees in any area around Melbourne, contact us for a quote.
Tree protection laws are enforced by local councils
Violating these laws will result in heavy fines and legal action

Employing a qualified arborist will help you navigate these local laws
Quality
A quality tree removal job means a job that is done safely, sustainably and completely. High quality work on your tree removal should include great customer service, a transparent quoting process and no hidden fees. If you request it, it should include removing the tree, extracting the stump, wood chipping the green waste and transporting it from your property. A quality tree removal will leave your property looking great and not harm the local environment. 
While quality might seem like an obvious factor, it is the first thing to be cut by discount services offering the lowest price. You can't get a high quality job from a team that is short on time, short on staff, lacking qualifications and without well-maintained tools and machinery. 
To help find the services that provide high quality, cheap tree removal, look for those that come highly recommended by its customers. Customer satisfaction and positive reviews are an excellent sign of a business that is offering a high quality service.
We offer a complete service from the first time you contact us, until we clean up all the green waste and leave your property looking great. The reason our list of returning customers is growing each year is because we believe in giving you the best service possible in the safest way we can. 
If you want to start caring for your trees, need the advice of an Arborist, or are curious about our prices and services – contact us today for a chat and a free quote. There are more ways than ever to get in touch. 
Give us a call on 131 546, our phone line is open 7 days a week
We also have an online quote form available on our website which operated 24/7.