Cheap Tree Removal in Brisbane
At Jim's Tree we provide Brisbane residents with the Cheapest Tree Removal at the highest quality
When it comes to finding help with tree removal in Brisbane, there are a lot of tree cutting services to choose from. Tree felling might not seem complicated, but it requires highly trained tree loppers to safely dismember and remove a tree from a private property. A qualified tree surgeon is called an arborist. Choosing the right professional arborist to help with your tree work can ensure you get a job done well instead of a potential accident on your property. 
Finding the best deal is not as simple as choosing the cheapest quote, as many of the cut-rate tree removal services will cut corners that result in more expenses down the line. The cheapest tree removal is ultimately the one that is done right, is carried out safely and is fully insured so that you undertake no financial risk.  This guide to cheap tree removal Brisbane will cover everything you need to consider to get the best price on your tree work. 
Safety
In the dangerous work of tree removal, safety needs to come before anything else. There's no point getting a cheap rate on your tree lopping if you, your family or the workers are put in danger due to a lack of safety protocols. A safe tree removal requires:
A well-trained crew

Quality safety equipment

Reliable tools

Strategic safety protocols

Sufficient crew members

Enough time to do the job safely
If any one of these elements is skipped for the sake of cost, the safety of the job is compromised and you are put at risk. The hazards of a large tree removal range from branches falling on homes, to trees falling on people. To mitigate this risk you need to choose a tree service that is highly recommended, has an excellent safety record and invests in their safety training and equipment.
Remember
Tree removal is dangerous

Skipping safety measures puts you at risk

Choose a tree service that invests in safety training & equipment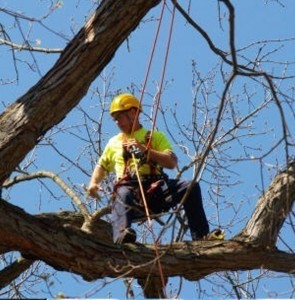 Insurance
Insurance is another non-negotiable requirement for any tree service. Ensuring that the tree removal job on your property is covered by a comprehensive insurance policy is the best way to financially protect yourself. Often the cheapest quote you will find for tree removal will be a result of the company not investing in reliable insurance coverage. Accidents can occur even when all of the proper safety measures are followed. This can result in damage to property that can range from cracked pavement and pipes to damaged roofs. These sorts of accidents can cause massive financial repercussions for you if the work is not fully insured. 
This risk can be entirely mitigated by checking the insurance policy of the tree service before you hire them. You want to find a company that uses the best insurance policy available on every job they do and you want to make sure the price of this insurance is included in the quote for the job. Don't be fooled by companies that use insurance as an optional extra cost. 
Remember
Insurance coverage protects you in the case of an accident

Some tree services will use partial or no insurance policies

Choose a company that uses comprehensive insurance on every job
Legality
Qualified arborists are necessary to meeting the requirements of most local tree protection laws when removing private trees. Each council has jurisdiction over the laws and requirements for permits to remove a tree. Violation of these local laws can result in fines and legal action. 
Tree services without the qualifications or knowledge of the local council laws will often carry out their work without the necessary permits. This decision can land you in legal trouble with your council as it is the owner/occupant of the property that is held responsible. Choosing a high quality tree service will not only ensure you abide by the local laws, but in some cases can speed up the approval process through their familiarity with the system.  
Remember
Each council have their own local tree protection laws

Failure to abide by these laws can result in heavy fines and legal action

Reputable tree services can follow the law and assist in permit approval
Quality Tree Removal
Choosing the cheapest tree removal quote you find may not be the most financially sensible decision. Companies that offer lowball prices in order to pick up more work need to fit more jobs into their day to make a profit. They also save money with discount tools and machinery that they don't spend money to maintain. Often these companies will use skeleton crews to save money on staff, meaning they use fewer team members than would be safe to perform the work.
The result of these money saving decisions is a lower quality job, done without decent equipment, with less people than is safe and in a rush to move onto their next job. Low quality work leads to mistakes, to accidents and to problems down the line. When a tree service doesn't provide high quality service, it's you that pays for it.  
Remember
The lowest price often means the lowest quality

Low quality work results in mistakes and accidents

It's you that pays for the issues of low quality work
Experience is the key to cheap tree removal
A highly experienced arborist has value well beyond the high quality work they provide. In addition to ensuring the tree removal is done safely and sustainably, the experience of an arborist can help to see problems and solutions where others can not. Arborists with experience can detect early signs of deterioration, disease, infection or infestation. They can tell before others when trees have become dangerous, or when they can be preserved. 
Hiring an inexperienced lopper will result in a tree getting lopped, hopefully safely. An experienced arborist, on the other hand, can provide you with quality advice and diagnosis on the seen and unseen problems. This can result in saving trees that don't need to be removed, or removing trees that would soon have become dangerous. The value of experience can not be overstated.
Remember
Experienced arborists provide quality work

They can detect when a tree is dangerous, or when it can be saved

An experienced arborist can solve issues that others can't
High Quality Affordable Arborists in Brisbane
The best prices for arborists include the safety of the job, the insurance coverage, the legal processes, the quality of the work and the experience of the arborist. These should not be optional extras as they are essential to completing the job safely without burdening you with financial or physical risk. 
Jim's Tree and Stump Removal provides highly skilled, experienced arborists at the most competitive prices. We offer free quotes that include an industry leading $10 million insurance policy on every job and a 100% customer satisfaction guarantee. If you need a tree removed for an affordable price, fill out our online quote form or call us on 131546 today.
We offer a complete service from the first time you contact us, until we clean up all the green waste and leave your property looking great. The reason our list of returning customers is growing each year is because we believe in giving you the best service possible in the safest way we can. 
If you want to start caring for your trees, need the advice of an Arborist, or are curious about our prices and services – contact us today for a chat and a free quote. There are more ways than ever to get in touch. 
Give us a call on 131 546, our phone line is open 7 days a week
We also have an online quote form available on our website which operated 24/7.
How much does it cost to get rid of a tree?
The average cost to remove trees can range from $250 to $3000 with most jobs costing around $1000. For smaller trees up to 10 metres tall you can expect to spend $800, for a tree between 10 and 20 metres the prices would range from $750 to $1250. Pricing really depends on height, diameter, location, site access, and the type of tree.
How much does it cost to cut down a tree in Brisbane?
In Brisbane, the cost to remove trees is similar to the rest of Australia with most trees costing between $500 and $1000 to remove, with this cost being impacted by several factors other than how big the tree is. A small tree up to about 5m might cost around $500 to remove, where a bigger 8-10m tree will be around the $1000-1200 range.
In addition to this you need to factor in council permits where required (Additional costs)
How do I get council approval to cut down a tree?
If you are wondering if your council needs approval in Brisbane, the answer is – most likely. For more comprehensive information, head over to our Council Tree Permit Regulation guides.