Large, mature trees certainly inspire a feeling of grandeur. Their impressive height, canopy and trunk not only looks incredible, but provides much needed shade and cover. Whether you are moving home and wish to take your tree with you, or the tree is now in an unsuitable spot, you will need to decide whether you should move your mature tree.  The experts at Jim's Trees weigh in on the debate about moving mature trees and how best to do so. 
Can you move mature trees?
Yes, usually you can move a mature tree. However, it will depend on the tree's height and condition. We recommend enlisting the assistance of a professional arborist, as they can assess your tree and determine whether it is suitable for moving. Otherwise, if you decide to just eyeball it yourself, you may spend a lot of time and effort moving a mature tree which could die or endanger your home and yourself. 
Should I move a mature tree myself?
Moving trees is serious business and can be highly risky. Even a small and less established tree can be incredibly heavy and tough to move. We recommend using the services of a professional tree removalist as one misstep could result in you injuring yourself, someone else, your tree, and your property. However, if you feel confident in your ability to remove a tree and your mature tree is less than a metre tall, you can attempt transplanting it yourself.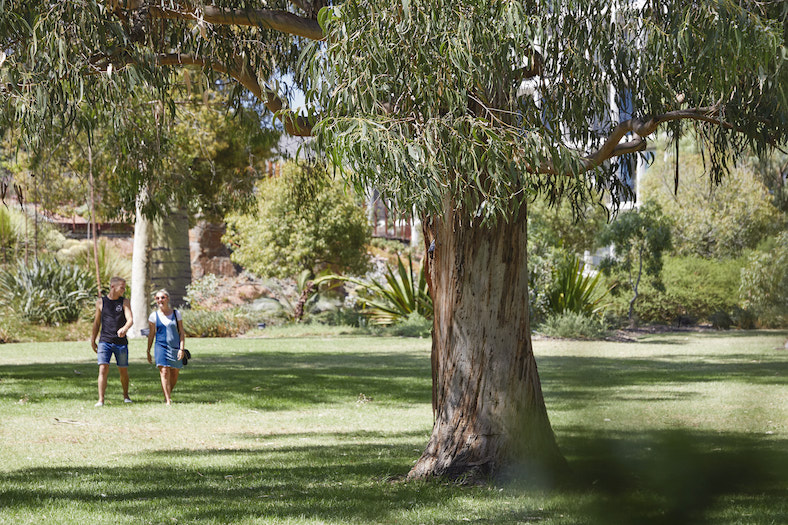 How best to move a mature tree
Follow our steps below to successfully move your mature tree. 
1. Choose the right time to move it
When moving your tree, you want to minimise shock. We recommend choosing to move a mature deciduous tree in the autumn once the leaves have fallen or in early spring before any buds have sprouted. 
2. Prepare the new location
To ensure a smooth transition, have the new location for your mature tree ready to go. Dig a hole big enough to fit the root ball of your tree. It's better to go bigger and fill in the ground after planting, then try to quickly dig a bigger hole when your tree won't fit. 
3. Remove the tree and loosen the root ball
Carefully dig out the root ball of your tree and remove it from the ground. If your tree is bigger than one metre, a tree removal crew will use specialised equipment to do this. Then loosen the soil around the root ball.
4. Replant your tree
Carefully transport and lower your tree into the new hole or pot. Back fill the area with soil, and create a mound dish so water runs towards the roots. 
5. Water regularly until established 
Straight after planting, water the tree and moisten the soil. You should water your tree weekly for a month then water once a fortnight. You can also add some mulch and seaweed solution to give your tree boost and encourage healthy growth!
Need assistance with moving a mature tree?
You can rely on Jim's Trees to ensure a successful move of your mature tree! We can provide expert advice and tree removal services. Simply get in touch with our friendly team or fill out our quote form today!
https://jimstrees.com.au/wp-content/uploads/2023/09/ryan-hafey-PdJjT-zYg_E-unsplash-scaled.jpg
1707
2560
Clara
https://jimstrees.com.au/wp-content/uploads/2018/08/trees.png
Clara
2023-09-28 15:17:50
2023-09-28 15:17:50
How To Move Mature Trees